Foundation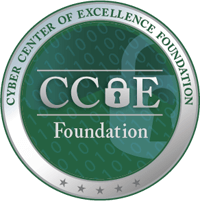 CCOE Foundation's mission is to provide independent cyber research and programs for the benefit and education of the public for the purposes of economic development.
Established in 2016, CCOE Foundation, a 501(c)(3), intends to be a resource for cyber knowledge and expertise; to connect key stakeholders; to identify industry-specific challenges and opportunities; and to deliver research and educational content.
The Foundation is aligned with CCOE's goals to accelerate San Diego's cyber economy, funding research and studies that inform programs to position the region as a magnet for innovation, investment and talent.
CCOE Foundation Board
Chad Nelley, Chairman & President
Executive Vice President of Operations, ESET North America
Rob Belk, CFO & Treasurer
Cyber Security Executive Director, Ernst & Young
Scott Sibley, Secretary
Director, Journeys Map
For more information about the Foundation or how to contribute, please contact us at [email protected].